Sustainable Denim: The limited LEE x H&M collection
Do you love a long-lasting, timeless, and fashionable denim piece in your wardrobe? Are you trying to take a more sustainable approach to fashion? Thanks to the newest LEE x H&M collaboration, you can get the best of both worlds! The collection combines sustainable materials, production processes, and timeless designs. Show your favourite pieces and how you would combine them to your followers and earn money off your content with stylink.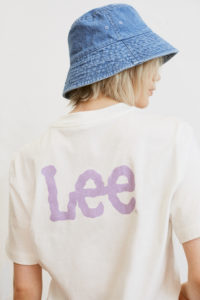 The American denim legend LEE
Lee is an American company focused on creating and providing high-quality denim it-pieces for anyone and everyone. As they started with the classic "blue jeans" and denim jackets, moving on to work jumpsuits and overalls, Lee focused on improving their products to fit their customers. By using the best denim, more precisely the strongest and bluest denim, they soon entered the women's jeans market. Not only that but they quickly joined the pop culture fashion era. Whether you like your jeans with a high or a regular waistline, skinny or with a wide leg, coloured a classic blue or rather black or grey, you can find all of them at Lee.  
The limited Lee x H&M collection
With their new and limited collection, Lee and H&M are providing major 90s vibes for us all. From denim jackets, wide–leg jeans, classic straight jeans, to long-sleeve tops, hoodies, and beanies and bucket hats. Tops and shirts, for example, are made from recycled cotton and complete your sustainable Lee x H&M look. Plus, you can also find dresses, overalls, and an entire kids' collection! If you are a mummy blogger, why not show off your new matching look with your little one in those classic denim overalls – #twinningiswinning! 
Sustainability in fast fashion? 
Some might argue that sustainable fast fashion is a contradiction in itself. However, H&M believes that as a leading fashion producer, they have to take on the responsibility of making a change in our current fast-moving world. By partnering up with Lee, H&M wants to approach the overall process of creating a more sustainable clothing line, from materials to production. The limited collection features a new range of threads, buttons, zippers, and cotton-based pockets. All denim pieces are made from renewable man-made fibres and water-saving dyes, and customers are greeted with a transparent overview. The LCA (Life Cycle Assessment) data outlines the CO2, energy, and water impact of each item from raw materials to end of use. You can find the details of the assessment online. 
Show your favourite items to your community
If you want to inspire your community with your top picks and your favourite items from the Lee x H&M collaboration, here are a few content ideas for you:  
Share screenshots of the products on your wishlist and let your followers help you decide what to get and what not to get. Insert polls into your stories and let your community vote on whether you should get that shirt or the beanie. You can also show the results later on to inspire your followers on what they might want to get for themselves.  
Share your favourite pieces as part of an outfit. For example, take a pair of jeans as the centrepiece and build an outfit around it, showing screenshots of the products. That way, your community will get a feeling for the items and get inspired by your combinations. Simply link the different products for your followers with your stylink affiliate links in the following stories.  
Of course, you can only film a try on haul with clothes that you have at home. However, it might be a good idea to do a haul once you receive the clothes that you have ordered. That way, you can show your favourite pieces and outfits in real life and comment on the fit and the quality. Why not follow up on the "take or toss" polls and show your followers that you have listened to their feedback?  
You are active on YouTube, too, and want to share your findings on there? Check out our content ideas specifically for YouTube, and inspire your subscribers with your videos. Bonus: your stylink affiliate links don't expire, so if you insert them in your YouTube description box, your subscribers can always access your recommended products with one click.  
Be part of the change now
Both Lee and H&M want to move their own companies into a more sustainable fashion environment. Through their holistic approach to the importance of including new materials and production processes in the fashion industry, they want to lead the way into a more sustainable future. By supporting the cause and the limited collection, you can be part of the change and help other companies to make the move to more sustainable approaches as well.  
You love sustainable fashion and want to rock a new denim it-piece this spring? Then you should not miss out on the products from this Lee x H&M collaboration – all available items are launching on www.hm.com this Thursday, 11th of February 2021.  
You are curious?
Sign up with stylink easily and free of charge. Our affiliate platform offers you the opportunity to earn money with your content - with instant payout if you wish. We are looking forward to welcoming you!
Hey Marie,

Thank you for your comment! This campaign is over but we have many more campaigns going on. If you would like to participate in any of them, you can sign up with our platform to receive the latest updates!
Büsra from stylink